Projects can be deactivated on an individual basis. When a project is deactivated the following changes occur:
The project is no longer available in ConDoc menus
No users will be able to access the project
No changes can be made to any documents or plans in the project
Documents and plans cannot be viewed in ConDoc
You are no longer billed for the project
If you would like to deactivate a project, we recommend that you first request a DVD Export.
To deactivate a project:
Navigate to Admin > Project Admin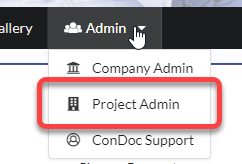 Click the Deactivate Project button

Click "OK" to confirm your request to deactivate the project.