ConDoc supports several aspects of CUI / FOUO data controls in response to DOD 5200.48
For every project stored within ConDoc
All data is transmitted via TLS encryption
All at rest data is encrypted via AES 256-bit encryption
All users are required to logon to access any document stored within ConDoc
(With the exception of set narratives. Set narratives are included in the notification email when plan sets are updated)
All access to documentation within ConDoc is fully audited
ConDoc support the following optional project level CUI settings.
These settings are managed by the General Contractor for each project via Admin -> Project Admin -> Controlled Unclassified Information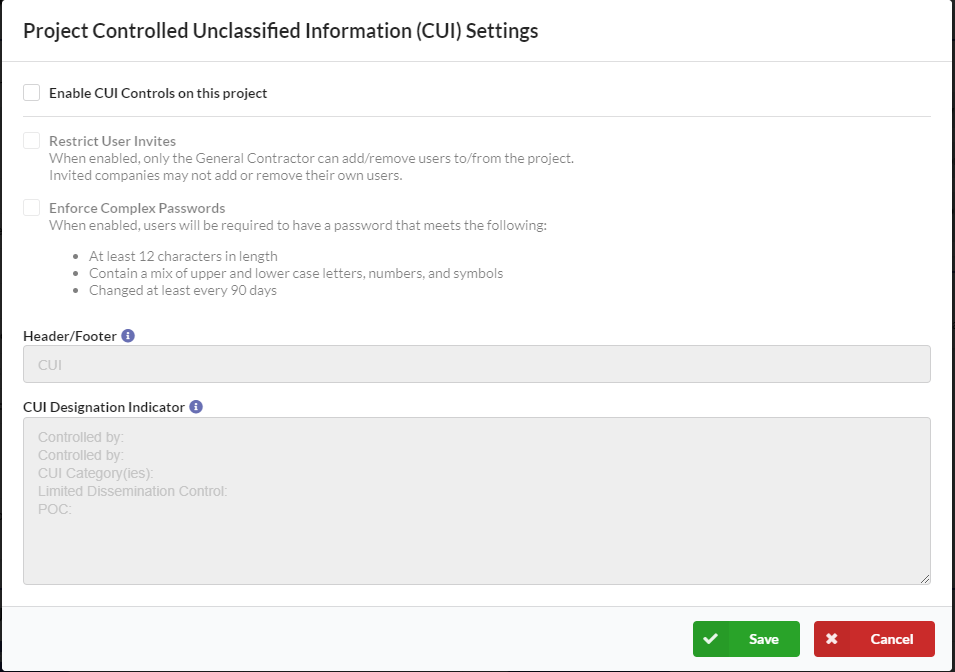 Restrict User Invites
By default, ConDoc allows companies to manage their own users on a per project basis. By enabling this CUI feature, user management is restricted to the General Contractor Project Administrators only.
Enforce Complex Passwords
By default, ConDoc does not require a complex password. By enabling this CUI feature, all users who have access to the CUI project will be required to maintain a complex password which expires every 90 days.
CUI Stamping
Configurable CUI header/footer and designation stamps. When configured, the CUI stamping will be placed on all ConDoc generated coversheets.