You can set up notifications for your folders in the File Cabinet. By default, no notifications are sent. Simply follow these steps to get the emails flowing!
Prerequisites: You must be a folder admin.
Notifications can be different for each folder, if you want them to be. A sub folder will inherit the notification settings of its root folder.
1. Click on the file cabinet in the main menu bar

2. Click on the three dots icon next to the folder you would like to set up

3. Click on Manage Notifications to open the notification settings window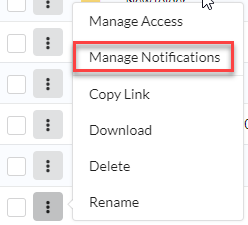 4. Click on the blue Notify button. This will bring up a list of users and companies on the project to select from. Simply select the users you want to notify when documents are added to this folder.