Welcome email
ConDoc users are added by an administrator. Once you are added to the system, you will receive an email containing instructions for logging in.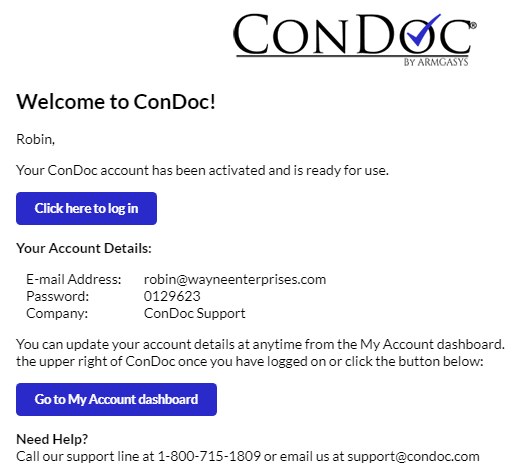 Follow the highlighted Click here to log in link to launch ConDoc or type the following URL into your browser:
Enter your email address and the provided password. Click Login.
Be sure to reset your password as soon as you login – choose a secure, easy to remember password.
Why Can't I Access ConDoc?
Read below and see if one of these common issues is preventing you from accessing ConDoc:
Check your junk email folder if you don't receive an email invitation to ConDoc.
The device you use to access ConDoc must be connected to the internet when you login to ConDoc.
Google Chrome provides the best user experience for ConDoc. If you use a browser other than Chrome, a red warning message will appear in the header. Click Here to download Chrome.
Can't remember your password? Click I forgot my password on the login screen and follow the instructions.